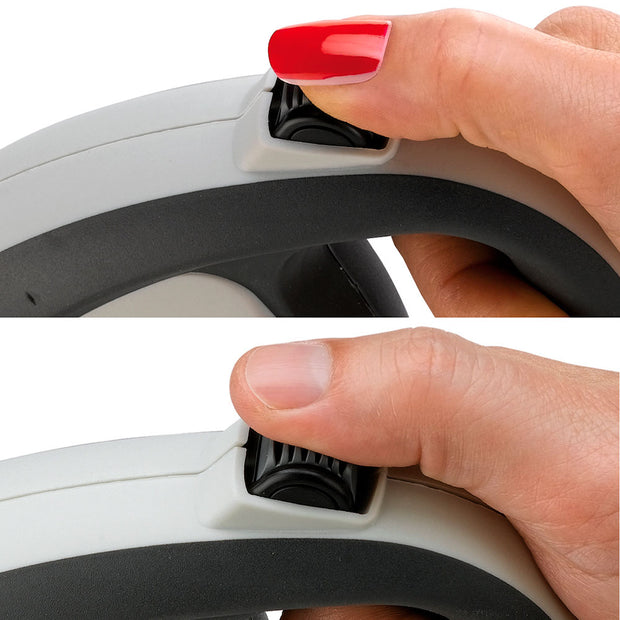 Patented control system
Extending cord giving your dog great freedom of movement
Ergonomic button ensuring precise commands
Perfect for women with long nails
Models Medium for dogs weighing maximum 25 kg
Model Large for dogs weighing maximum 50 kg
Flippy Tech Cord extendable leads allow your dog freedom of movement and are suitable for use in various situations, whether you are walking in the town, in the countryside or in the mountains, thanks also to the possibility of blocking the cord at your desired length. Flippy Tech leads are easy to use, strong and very reliable. They are suited to all types of hands, especially if you care about your nails, thanks to the innovative multi-function push-button, which allows you to keep control of your 4-legged friend, passing from the stop position to the release position, simply by exerting a light pressure.
They come in the following colours: black, light grey and red, as well as the new colours purple and acid green, all matching the soft plastic anthracite coloured profile. Flippy Tech Cord is suitable for dogs of all sizes and is available in three sizes: Flippy Tech Cord Small has a cord that extends up to 3 metres and is for dogs weighing up to 12 kg, Flippy Tech Cord Medium and Large have 5-metre long cords and are suitable respectively for dogs weighing up to 25 Kg and 50 kg.